Gulf pro fuels is an Ecologically-friendly
Alkylate gasoline
Gulf Pro is an Ecologically-friendly Alkylate gasoline for 2 and 4-Stroke engines, which burns 99% cleaner than regular petrol.
The main value of the Gulf Pro brand are Efficiency, Health and Ecology.

Gulf Pro gasoline is almost completely free of hazardous compounds, such as benzene and other aromatic hydrocarbons. Using Gulf Pro guarantees optimum engine performance, while also being significantly less harmful to the environment and the user's health.
Gulf Pro is also more stable than regular petrol, so it can be stored much longer without damaging the engine

Gulf Pro 2T is a ready-mixed blend of ultra-pure Alkylate gasoline with a high-quality, biodegradable, two-stroke oil at a 50:1 ratio.
It ensures exceptional engine cleanness, minimal emissions, optimum lubrication at all temperatures, and a long storage life.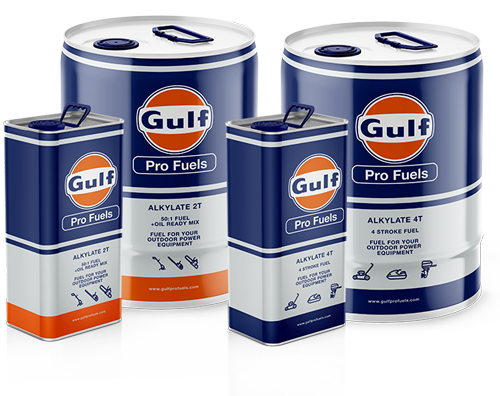 Gulf Pro 4T is an ecologically-sound, ultra-pure, Alkylate gasonline for all non-highway four-stroke engines.
It is odourless during combustion, and offers exceptionally clean burning characteristics and a long storage life, which makes it ideal for use in mowers, marine, snowmobiles, generators etc.
Gulf Race Fuels/Pro Fuels curbs environmental impact with new Ecologi partnership
Gulf Race Fuels/ProFuels has launched a new partnership with UK-based environmental organisation, Ecologi that will see the motorsport brand positively contribute to reducing CO2 for every litre of fuel it sells by purchasing Gold Standard certified carbon offsets. The initiative sees Gulf look to lead the way for performance fuel companies, by kickstarting action towards sustainability and carbon offsetting.
Gulf Race Fuels/Pro Fuels and Ecologi have identified a formula for the numbers of Gold Standard-certified carbon credits required to offset each litre of fuel sold. In addition to this, Gulf will also fund tree-planting projects with Ecologi in Madagascar, Mozambique and Nicaragua – helping to future-proof and build the CO2 absorption capacity of our planet. The Gold Standard carbon offset and tree planting investments will allow Gulf to more than compensate for the impact of the fuel sold and used.
"We understand the need to protect the environment and we don't see ourselves as just a high-performance motorsport fuel supplier. We also want to achieve success off of the track and this initiative with Ecologi allows us to do that," Says Mark Ticen, Director, Gulf Race Fuels/Pro Fuels.
We're conscious of the ongoing pressures – both environmental and legislative – to reduce carbon footprints. Offsetting our sales by purchasing carbon credits allows us to be part of a global solution.
Gulf Race Fuels/Pro Fuels is tracking its progress through its live forest page; https://ecologi.com/gulfracefuels Here, all of Gulf's partners are able to check the progress the company is making in reducing CO2 levels. The motorsport fuel company is also developing a sustainability page so it can comprehensively track its environmental impact.
"We've already offset over 300,000 CO2 emissions worldwide, and planted more than 8 million trees. Working with forward thinking companies like Gulf Race Fuels allows us to continue our mission to remove 50% of global CO2 emission by 2040" says Dennis Hettema, Head of Sales at Ecologi. In fact, there are enough environmental solutions available that if all fully supported, 30 years of carbon damage could be undone, avoiding 1,500 billion tons of CO2."
For more information on the partnership and how Gulf Race Fuels/Pro Fuels is positively contributing to climate change, visit; https://ecologi.com/gulfracefuels